Mind Mapping in General Practice: Exploring the Development of Learning with GP Trainees
Ms Sharon Kibble, Dr Camilla Leach, Professor Johnny Lyon-Maris, Dr Reg Odbert, Dr Samantha Scallan, Dr Sally Wilson
Background
There is much debate as to the role and relevance of time spent in general practice to the development of GP trainees in the UK. Much of what is known is drawn from the feedback of trainees as to the usefulness and value of attachments in practice. There is a pressing need to refocus research to move on from considering trainee placement feedback on time spent training for general practice, to instead explore other aspects of learning in order to deepen understandings about the role of posts in the development of clinical thinking skills.
Summary of Work
The aim of this project is to begin to address the need for a more detailed understanding of the impact of spending time in general practice on the development of clinical thinking skills amongst trainees. The objectives are to identify change and development in clinical thinking about a scenario amongst participants over a four month period, and differences in thinking about a clinical scenario exhibited by trainees. It was anticipated that change in the composition of items would reflect a movement away from a clinical focus towards a more holistic approach to the treatment /management of the case. The project involves foundation year trainees.
Findings
Qualitative and quantitative analysis of the maps indicated change in the way the trainees thought about the case and the areas they focused upon, which will be presented in the poster.
Conclusions
This study has demonstrated changes in clinical thinking of trainees about a case when exposed to clinical experience in the primary care setting.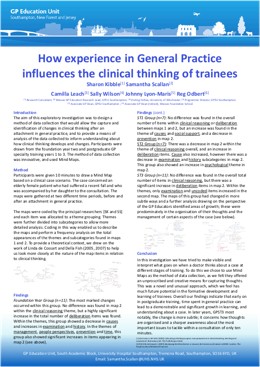 Publications
Conferences
| Title | Type |
| --- | --- |
| AMEE Conference 2010 | Poster presentation |
| DEMEC 2015 | Poster presentation |
| Ottawa 2010 | Poster presentation |
| RCGP Conference 2009 | Poster presentation |
| UKCEA (United Kingdom Conference of Educational Advisors) 2009 | Workshop |
| UKCFPO Foundation Training Day Conference 2009 | Poster presentation |
Related events, research and information