Exploring Non Verbal Communication with Trainees for General Practice
Professor Johnny Lyon-Maris, Dr Sandy Miles, Dr Samantha Scallan
Background
Communication skills development is one of the cornerstones of training for general practice. The subtleties of non-verbal communication can add much to a consultation (Mears and Sweeney (2000); Byrne and Heath (1980)), but is an area trainees may struggle with or lack awareness of the significance (Endres and Laidlaw (2009)). Anecdotal evidence suggests that with an increasing emphasis on the assessment of performance of trainees through simulated surgeries, there can be a mismatch between the spoken interaction and non-verbal communication and this is emerging as a factor in failing to pass such assessments.
Summary of Work
The aim of this project was to design a teaching package on nonverbal communication which would raise the awareness of trainees to their own non-verbal behaviour in the consultation and to help them to tune into patient behaviour. The teaching resource was developed over several months, drawing on observations of early pilot sessions, expert input and discussion amongst educators about incorporating resources that could maximise learning.
Findings
The poster reports the development of and evaluation the final teaching package within the context of the wider literature. Early findings suggest the session was well received and raised awareness of the importance of NVC.
Conclusions
The poster will consider how to harness the potential of such sessions for GP trainees, and how it can be embedded in the process of training.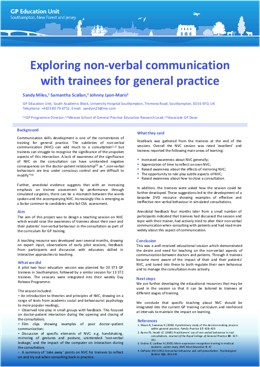 Conferences
| Title | Type |
| --- | --- |
| DEMEC 2015 | Poster presentation |
| RCGP Conference 2011 | Poster presentation |
Related events, research and information