The Value of Actors to Teambuilding and Development of The Primary Healthcare Team
Ms Carrie Hamilton, Professor Johnny Lyon-Maris, Dr Samantha Scallan, Ms Sarah Wilding
Background
Actors have been used for many years in the training and formative development of doctors. This project builds on earlier work (Lyon-Maris and Burrows (2009), Scallan et al (2011)), using actors to help build and develop the wider primary care team. The aim of the training is to give the 'front of house' primary care team experience in dealing with challenging patient encounters, and to test out their responses to emergency situations in a high-impact training session.
Summary of Work
An evaluation was undertaken to i. look at the method and process of the sessions and ii. to gather feedback from participants. Observational data was collected at a sample of training sessions, along with written feedback from participants. The data were analysed to provide an evaluation of the usefulness of the approach and method, and to identify how this type of training may be developed further.
Findings
The poster shares the findings of an evaluation of this method of using actors in the development of the wider primary care team and give an overview of the novel process.
Conclusions
The poster considers how to harness the potential of simulation for the wider primary health care team, and how it may be integrated into the working day of a practice.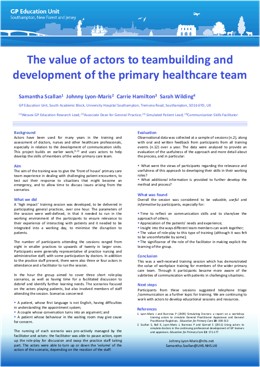 Conferences
| Title | Type |
| --- | --- |
| DEMEC 2015 | Poster presentation |
| Ottawa Conference 2012 | Poster presentation |
| RCGP Conference 2011 | Poster presentation |
| UKCEA (United Kingdom Conference of Educational Advisors) 2013 | Poster presentation |
Related events, research and information