Fostering Resilience with GPs: A Workshop Approach
Dr Julie Chinn, Professor Johnny Lyon-Maris, Dr Duncan Platt, Dr Samantha Scallan
Background
In recent years, change within the NHS and to the way care is delivered has seen the intensity of the workload for GPs increase and broaden beyond the face-to-face clinical encounter. The effects of these 'shifting sands' can be significant for the individual, in terms of wellbeing, working relationships and the clinical care given. Fostering resilience within the workforce is an area of interest and educational development work for medical educators. This poster describes an educational workshop designed to support GPs by fostering awareness to stress and resilience and reports an evaluation of it.
Summary of Work
The aim of the workshop was to raise awareness of work/life stressors and provide strategies to manage them. It comprised a mix of topic-based presentations and creative activities. 25 participants attended the workshop, representing a range of roles in general practice. Each day of the workshop was evaluated using a feedback sheet, and a further follow up email evaluation was conducted two months later.
Findings
Participants valued each element of the 2 day workshop highly. In addition to the 'on-the-day' feedback, participants gave their perspectives on stressors, and after, their longer term reflections and any changes made. The poster will outline the findings of the evaluation and future steps for development.
Conclusions
The workshop demonstrated that there is a need for practical support for GPs to manage stress. The evaluation provided useful information as to how future workshops might be developed.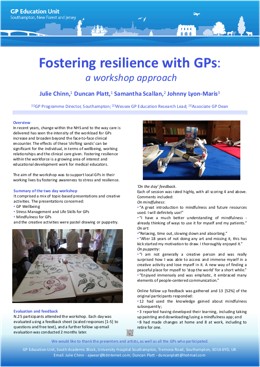 Publications
Conferences
| Title | Type |
| --- | --- |
| DEMEC 2015 | Poster presentation |
| RCGP Conference 2014 | Poster presentation |
Related events, research and information