GP Masterclasses
Dr Julie Chinn, Dr Sandy Miles, Dr Samantha Scallan, Dr Peter White
Background
Clinical CPD for GPs has typically been undertaken as a uniprofessional group, and is generally delivered in a one-off lecture-based format. The 'Masterclass' model of CPD has been running for a number of years, and is founded on a model of interprofessional learning. Pairs of GPs and practice nurses from general practices in the Wessex Deanery meet together to look at a specific area of care (so far diabetes, COPD, CHD). The group meets three times over a three-month period. Sessions are facilitated by GP Programme Directors and comprise expert-led sessions and small group learning. After each day a summary of action points for each pair is made and shared for the pairs to achieve outside the sessions. These are reviewed at the next session.
Summary of Work
Three cycles of the course were observed and feedback was gathered from participants to evaluate the model of learning, the process and identify opportunities for change.
Findings
Participants reported the following benefits:
The value of expert input for cases and general clinical management
Having protected time to discuss and review care, and especially that arising from their own practice
Hearing of other practices, sharing ideas and discussion of clinical issues
Sessions strike a balance between learning /reflecting on practice and making changes to practice
Conclusions
The poster will describe and share the 'Masterclass' model to the learning of GPs and nurses and report the results and outcome of the evaluation in more detail.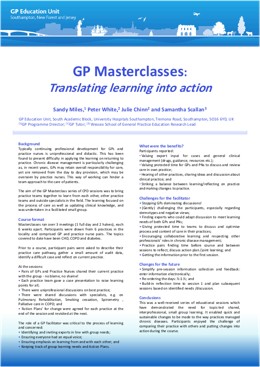 Conferences
| Title | Type |
| --- | --- |
| DEMEC 2015 | Poster presentation |
| RCGP Conference 2012 | Poster presentation |
Related events, research and information