The Value of Actors to GP Trainer and Appraiser CPD
Dr Kerry Ball, Dr Peter Burrows, Dr Eileen Gorrod, Professor Johnny Lyon-Maris, Dr Samantha Scallan
Background
Actors have been used for many years in the training and formative development of doctors, as well as playing a key role in their summative assessment. They also contribute to CPD, especially in communication skills enhancement. In each of these areas, actors generally play the role of patient, not doctor. In this project, actors took the role of doctor, playing GP registrars in difficulty and challenging GP appraisers.
Summary of Work
An experimental workshop (Lyon-Maris and Burrows (2009)) set the scene for the present work and reported the approach used for briefing the actors, preparing the facilitators, testing early scenarios and developing a process. The process was then piloted in two training days with GP trainers and appraisers. Observational data was collected at each event, along with oral and written feedback from participants. The data were then analysed to provide an evaluation of the usefulness of the approach and method.
Findings
Both the appraisers and trainers found the sessions relevant, useful, and valuable, as well as uncomfortable and challenging. The process allowed them insight into how they managed communication in difficult and challenging situations, and to experiment with alternative strategies.
Conclusions
The poster describes the approach to the simulated session, the process of the session and an analysis of feedback. Participants found it valuable and their perception was that it was a welcome addition to their CPD.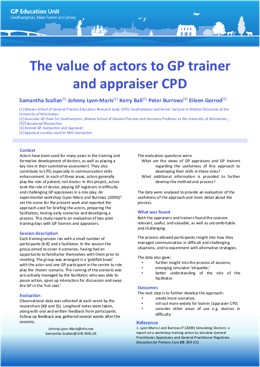 Publications
Conferences
| Title | Type |
| --- | --- |
| DEMEC 2015 | Poster presentation |
| Ottawa 2010 | Poster presentation |
| UKCEA (United Kingdom Conference of Educational Advisors) 2009 | Workshop |
Related events, research and information