Practice Based Small Group Learning (PBSGL) - putting EBM into practice
Dr Jonathan Rial, Dr Samantha Scallan
What is PBSGL?
Practice Based Small Group Learning (PBSGL) is an innovative form of Continuing Professional Development (CPD) for GPs. Developed in Canada in 1992, and adapted ('tartanised') for use in Scotland in 2005 (MacVicar, 2006}, over one third of all GPs in each of these countries (6000 & 2500 respectively) are now members of a group. PBSGL is a module-based, small group (5-10 GPs) program of learning facilitated by a GP-peer who is trained for the role. The intended outcome of learning is to make 'evidence-based' changes to practice through collective reflection on the topic-based clinical cases and related learning resources.
My project
In 2010 whilst a GP Educational Fellow, I realised that PBSGL was not being used in England, despite it being a well-researched and successful form of CPD. I conducted a small research study to introduce PBSGL to Wessex, which was positively received (Rial & Scallan, 2013). I subsequently worked closely with Scotland and Canada to further expand PBSGL into Wessex.
I was fortunate enough to be able to draw from the experiences of the other established teams, in order to identify how to further develop the approach to learning. It became clear that a bespoke website would facilitate group members accessing resources, I therefore undertook to design one. My main objectives were to create a site that could manage the groups more easily and I wanted members to have the ability to easily record their CPD live, as well as to export it to their revalidation toolkit.
How does PBSGL put EBM into practice?
A small pilot research study was undertaken to look at perceived change in knowledge of those participating in PBSGL. Although the study was small (n=7), the results are consistent with a larger study that was undertaken in Scotland (MacVicar, 2006). 'PBSGL improved knowledge and skills concerning using, interpreting and applying evidence in practice' (Rial & Scallan, 2013)
Participants were asked to rate four aspects of their learning before and after participating in a group. Their self-reported change in these aspects are shown below, and a selection of quotes to illustrate the value of PBSGL.
Conclusion
I hope to continue to support the development of PBSGL for CPD in Wessex and further afield. I am keen to share my experiences with others who are considering setting up PBSGL groups of their own.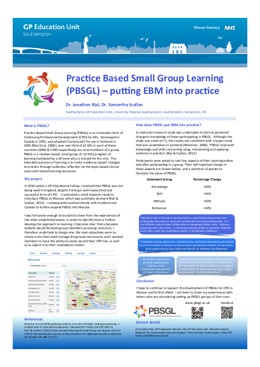 Conferences
| Title | Type |
| --- | --- |
| Evidence Live 15 | Poster presentation |
Related events, research and information