Tai Chi: For Building Resilience
Dr Julie Chinn, Mr Shaun Kara, Professor Johnny Lyon-Maris, Dr Duncan Platt, Dr Samantha Scallan
Background
In recent years, there has been much interest in how GPs can protect themselves in their everyday practice through building resilience. The impact of wellbeing on the clinical care given and working relationships is now being recognised as important, and ways of building resilience are developing. This poster describes an educational session designed to support GPs by introducing them to the practice of Tai Chi, and how to use it to manage stress.
Summary of Work
The aim of the session was to introduce participants to some basic principles and moves in Tai Chi. It comprised a mix of informal discussion of the principles and a practical introduction. Follow up support was provided by a podcast video which demonstrated a short 10 minute practice that could be completed every day. 10 participants attended the session, drawn from a range of roles in general practice. The session was evaluated using a feedback sheet, and a further follow up email evaluation was conducted three months later.
Summary of Results
Participants valued the introductory session and rated it as 'good' or 'very good.' The 'on-the-day' feedback reflected their liking for the practical nature of the session and reported seeing how it could be fitted into the working day. The poster will outline the findings of the evaluation and future steps for developing this area of educational support.
Conclusions
The session demonstrated that there is a willingness amongst GPs to engage with practical support to manage stress, and the session adds to the existing menu of strategies offered in the area. The evaluation provided useful information for ideas for future development.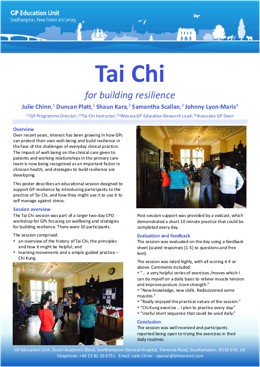 Conferences
| Title | Type |
| --- | --- |
| RCGP Conference 2016 | Poster presentation |
Related events, research and information