Understanding Uncertainty
Dr Hannah Gaynor, Professor Johnny Lyon-Maris, Dr Jonathan Rial, Dr Samantha Scallan
Background
The ability to tolerate uncertainty allows a doctor to manage patients appropriately, and in so doing places their best interests at the heart of clinical practice. It is a particularly challenging area for educators to 'teach,' yet it is an educational imperative to equip future GPs with an ability to be self--‐aware of their consultation style and tolerances, and to feel able to express feelings around uncertainty.
Summary of Work
The aim of the study was to explore GP trainees' comfort when managing uncertainty, and as an outcome to design an educational programme to support the development of this skill as a key part of the consultation. A sample ST2 and 3 trainees in practice and GP trainers, recorded their blood test requesting rate over two weeks. For each request the doctor recorded the motivation for making it in terms of the certainty of the diagnosis.
Findings
ST2s regularly reported performing a blood test where they were 'certain'of the diagnosis: (23%) of cases; this contrasted sharply to ST3s (7%) and GPs (0.8%). More surprisingly still 50% of ST2s reported they were never 'uncertain'. This again contrasted with the ST3s and GPs. Additional data indicated that the ST2s, even after six months in general practice, did not feel able to share feelings of uncertainty. Having identified this as an educational need, a programme promoting the ability to recognise and manage uncertainty has been developed and piloted to support ST2s.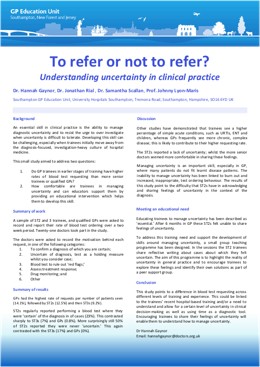 Conferences
| Title | Type |
| --- | --- |
| DEMEC 2015 | Poster presentation |
| RCGP Conference 2014 | Poster presentation |
Related events, research and information