The Drama of Communication: A Workshop to Enhance Communication Skills
Professor Johnny Lyon-Maris, Dr Lyndsay Muir, Dr Jo Murphy, Dr Samantha Scallan
Background
Traditionally in training programmes for general practice, communication skills are taught by clinicians, enhanced by the use of direct observation techniques and video recordings of the trainee and patients or simulated patients. There are many similarities between a doctor's communication skills and an actor's performance abilities, and the workshop described here is intended to highlight this for trainees in order to help them explore and develop their interpersonal skills.
Summary of Work
A drama-led approach looks at specific parts of the doctor /patient interaction, analyses the relationship at various points and promotes greater awareness of the exchange by trainees through the use of drama activities and techniques.
Summary of Results
In this poster we describe how the use of a professional drama coach can enhance learning for trainees by focusing on the voice, gesture, the face and physicality.
Conclusions
Coaching on communication skills using drama training is has been well received by trainees, and this paper describes how it may be used more widely.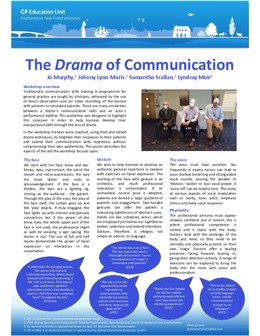 Publications
Conferences
| Title | Type |
| --- | --- |
| RCGP Conference 2016 | Poster presentation |
Related events, research and information