Developing NHS Leaders: The Benefits of Overseas Leadership Fellowships
Dr Andrew Boyd, Ms Leanne Saddler, Dr Samantha Scallan
Background
Since 2008, 150 NHS employees and trainees from a range of healthcare professions, including general practice, have completed an Improving Global Health (IGH) through Leadership Development Fellowship. Placements are typically for 6 months and Fellows work closely with an overseas partner organisation. Placements are non-clinical, but have a focus on service and quality improvement, and developing capability. The aim of the present study was to explore the impact of completing the programme on past Fellows and identify outcomes for the NHS.
Summary of Work
Past Fellows (n.109) from the programme were invited to complete an online questionnaire. Emergent themes in their answers were further explored with a purposive sample of 15 who participated in detailed, semi-structured interviews. The data were analysed by the authors using thematic analysis. Key findings from the analysis are presented.
Summary of Results
76 responses were received (70% a response rate). The majority reported that participating in the scheme had had an impact on their view of themselves as leaders, and three themes emerged to capture this: leadership potential, learning transferrable skills and impact on current role.
Conclusions
The IGH programme has provided participating Fellows with a solid foundation from which to continue their development as the NHS leaders of the future.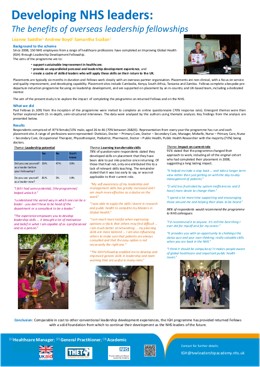 Conferences
| Title | Type |
| --- | --- |
| Partnerships in Global Health Conference 2016 | Poster presentation |
| RCGP Conference 2016 | Poster presentation |
Related events, research and information